Since I have been taking weaving lessons, I have been looking at other fiber arts. I saw a beautiful canvases with fabric and scrapbooking paper collages. I am definitely going to have to try this idea.
When I went to the crafts store to buy scrap booking paper for my niece, I came across this book.that immediately caught my attention and would not let go.
Fabric Samplers: Journals Bookcovers Mini Purses, Pincushions/Create Wonderful Collages with Wool, Felt, Fabric, Floss and Accents
is written by Carmen Daumer. It includes different projects such as journals, book covers, mini purses and pincushions. All of these projects include a wonderful mix of wool, felt, fabric, floss and accents. I haven't used wool yet in any projects - mostly because I am afraid to start a whole new stash, but I think I am pretty convinced that I need to start. They all have wonderful touches, and you can examine each piece for a long time to catch all the details.
And since they are patterns you can customize, you can personalize them to make a beautiful and creative Christmas gift. Each of the projects would make a unique gift that is sure to please.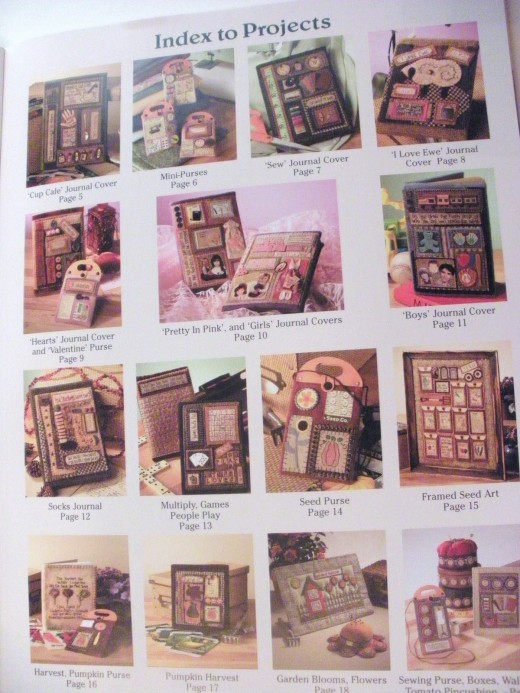 Just look at the table of contents! In case you can't see the index very well, there are several different types of journal covers - Cup Cafe Journal Cover, Sew Journal Cover, I Love Ewe Journal Cover, Hearts Journal Cover, Pretty in Pink Journal cover, Girls Journal Cover, Boys Journal Cover, and Socks Journal cover. Other projects include mini purses, Seed Purse, Games People Play book cover, Framed Seed art, Harvest Pumpkin Purse, Pumpkin Harvest Journal, Gardens Blooms, Flower Pincushion, Sewing Purse, Boxes, Wall quilt, and Tomato Pincushion. I think the journals and journal covers and framed art can all be intermixed, so if you want framed art, and like the journal cover pattern, you can simply make it art.

The first part of the book includes beautiful photos of each of the projects, basic descriptions and tips. The rest of the book include detailed instructions on how to make each project. I found all of them to be quite adorable, and am very happy with my purchase. These projects are not quilts, but they certainly are perfect projects for a quilter to expand her skills. These projects would make great personalized Christmas gifts. Wool projects make me think of primitive style of quilts and folk art. The projects are very stylish and contemporary.